OLPC Learning Club Meetup on December 18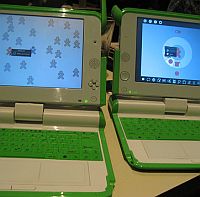 Time to local mesh XO's
Are you stalking UPS drivers with geek-lust for your G1G1 laptop? Do you want to mesh network with other First Day Donors right here in Washington DC? Then be sure to join a group I am starting: OLPC Learning Club – DC.
It is a local group of XO laptop enthusiasts committed to co-learning, hacking, and expanding the One laptop Per Child computational experience and we are having our very first meetup next week:
OLPC LC-DC Holiday Meetup
December 18, 7 PM
Mayorga Cafe & Lounge
3301 14th. St. NW (map)
We will have three special guests with us from other OLPC organizing groups:
Bryan, Christoph, and Aaron will be giving us an overview of their progress in organizing local OLPC groups in their countries, and ideas on how to expand OLPC LC/DC. Then we'll have an in-depth geek-fest and discussion around XO laptop usage right here in Columbia Heights.
Be sure to bring your enthusiasm, your commitment, and of course, you shiny green G1G1 XO laptop!