Popping Caps in the Capitol
Seems kids in Northeast, forgetting that guns are banned in DC, played a modified game of Russian Roulette to the death last week. Instead of putting a revolver with a single round to their own own head, they pointed the gun at each other during turns. Inventive, yes, smart, no, as now another kid is dead with a hole in his head, allowing a DC politico to pipe up with a great comment after the fact.
In the WashPost, D.C. Council member Vincent C. Gray (D-Ward 7) "said the slaying and game of roulette also highlighted problems with the 'adult supervision in the lives of these kids' and others who are the victims of gun violence."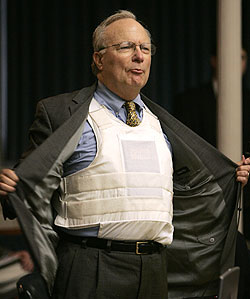 Adult supervision eh? Say the kind of adult supervision found in Maryland? There 7 year-olds bring Dad's gun to school and tag little girls.
Or maybe he meant the kind of adult supervision of firearms in Virginia, where even legislators let shots fly. Apparently, Henrico County Legislator Jack Reid (R)is so Dirty Harry, he's willing to pop a cap into pretty much anything, including his own bullet proof vest when it got uppity yesterday.
Ah, but its not the handgun's, fault, right? To quote the brilliant Virginia House Majority Leader Morgan Griffith, R-Salem :
In the DailyPress: "The truth is you're more likely to get hurt in a car accident than by a gun, so why restrict people's freedoms," Griffith said. "What if we restricted cars because people die in wrecks?"

And the Roanoke Times"We've got six elevators" in the General Assembly Building, Griffith said. "If one of them crashes, that's a problem. It doesn't mean we ban elevators."