I am a sweet tooth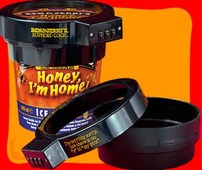 Yes, I am. I would mainline sugar and cream if I could, which shocks some because I eat so healthy and don't have sweats near. Really, though, the reason I don't get near the dessert tray or the ice cream isle is that I have no willpower when it comes to sweets.
For Ben & Jerry's I do not need the pint lock or even a lid – pints disappear in one sitting. Cakes go even without icing and cookies are eaten as batter before they make it to the oven. Right now, I'm having one of my favorites – Nilla wafers and soy milk. Mmm Mmm Good!
Tomorrow, I'm gonna celebrate the end of triathlon training, I'm gonna get Krispy Kremes for the office!