Nationals: Reasons for Zimpotence?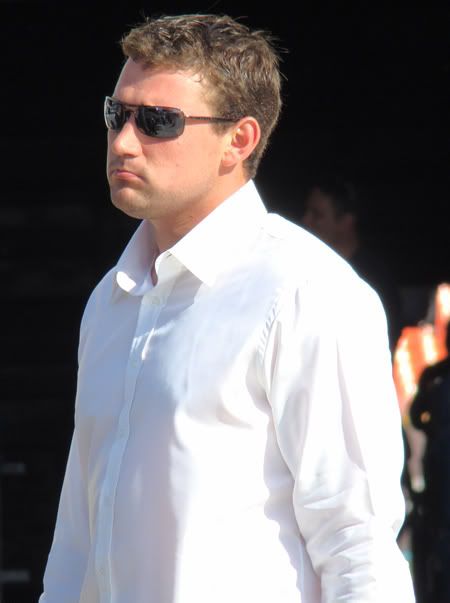 Thanks to WaxHeaven for this "just left the club" photo of RZ.
As I write this, the Nationals are down 5-2 in top of the 6th against the Florida Marlins.  They've already dropped their first two to Florida and here comes Ryan Zimmerman to the plate.  That would be 1-11 (.091) Ryan Zimmerman who's lone contribution thus far, offensively, is a double. 
The face of the franchise.   Why is he so terrible you may ask?  Perhaps you say "well it's early in the season and he's coming off of surgery last year-cut him a break."
I offer exhibit A (thanks to Patrick)-Ryan Zimmerman's favorite places to "go out."  (WaPo)
Maybe Zim is spending a little too much time chatting up GW Undergrads at McFaddens, or a perhaps is staying out a bit too late with the recently graduated Clarendon crowd at Liberty Tavern-but if it keeps affecting his game play, I say we all show up at these places at tell him to pack it up and get some sleep because clearly he needs it. 
Yep.  I say if he doesn't start hitting up the ball, then no more hitting up the town.  We can all go to K Street Lounge, or Town Hall and just-
oh wait, he hit another double (2-12).   Now he's on third, thanks to a walk.  …Aaaaaaaand typical Nationals.  Bases loaded and no outs?  That's a line out, a strike out and a pop out to end the inning. 
Now where was I?  Oh right-stalking Ryan Zimmerman.  For his own good, of course.  I mean…well…okay you know what I mean.  So…we'll just leave it that.
Go team!